Ts2 to Ts4: Picket Fence Dining Set (UPDATED)
Today I am releasing my "Picket Fence Dining" set, as a follower appreciation gift. Yeah, I know, 50/8 followers is a tiny milestone for some of you, BUT, nonetheless it is a good thing to be appreciative of all the people that support your work, no matter how many there are, right? :)
Thank you everyone that has been following from the beginning and all the new people that are following and supporting my work, I appreciate all of you dearly and equally, and to show you my appreciation here is another ts2 to ts4 conversion, did I mention that it gets addictive? ;)
All the credit for the mesh goes to the super creative Huge Lunatic from Mod The Sims, thank you for letting us all play with your amazing creations!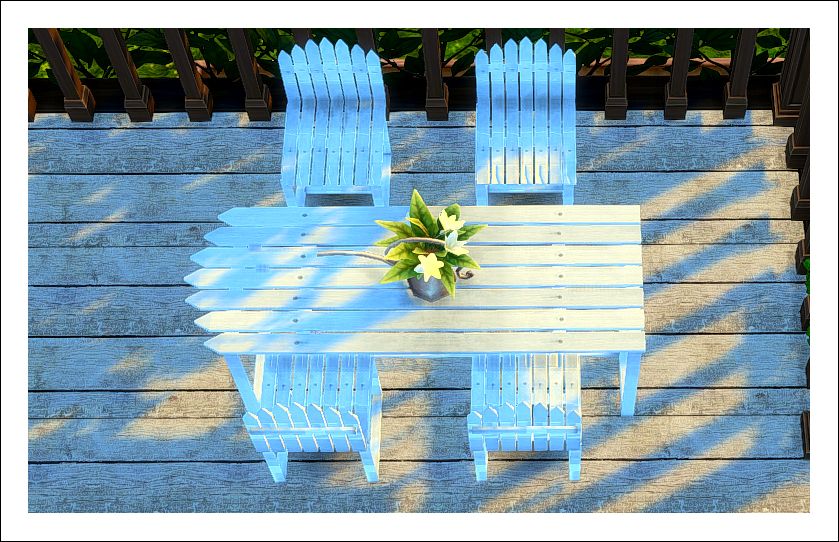 *Base Game Compatible*
Table Category: Buy Mode - Dining Tables
Price: §125
Chair Category: Buy Mode - Dining Chairs
Price:§55
NOTE:
Chair and Table UV maps and textures have been included with the file for recolors. Please give credit to the original creator for the mesh if you decide to recolor this set.
{SHORTE.ST}
MEDIAFIRE
SIM FILE SHARE
{ADFLY}
MEDIAFIRE
SIM FILE SHARE