Ts2 to Ts4: 8-3 Anniversary Furniture and Sweets Set (UPDATED)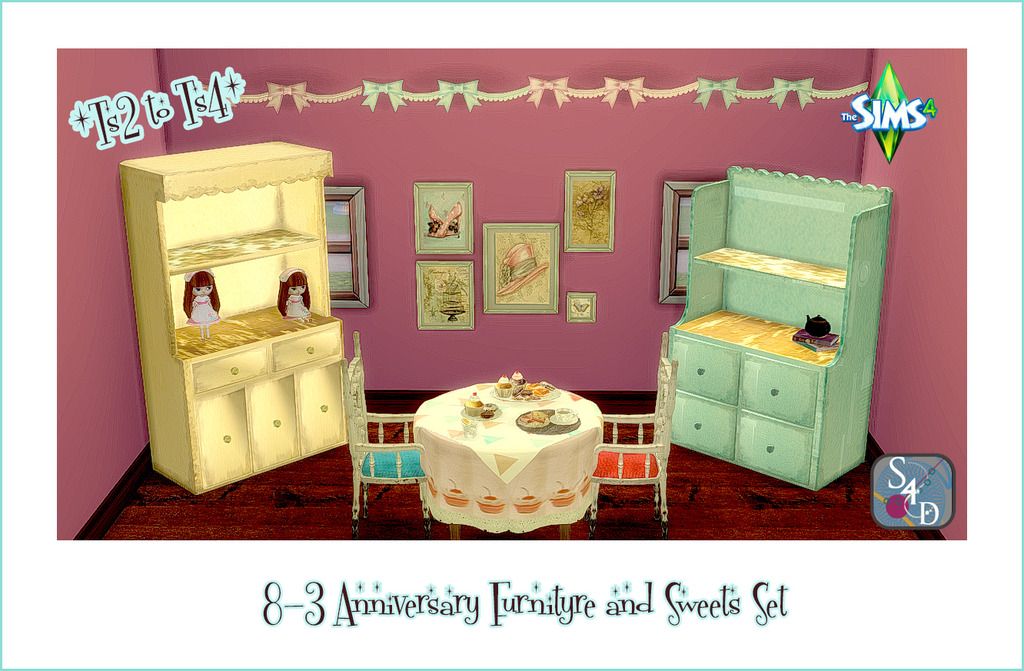 Hi everyone! Here's another 8-3 Studio conversion for you all, this time I am sharing a super cute anniversary furniture and sweets set, the furniture set includes a big and small cupboard, a dining chair, a dining table and a cute stream of decorative ribbons. The sweets set includes a chocolate cake, a lemonade glass in three different flavors, a sweets dish, tea and books and tea and cake, all of them are decor only. The big and small cupboard only have 1 slot available so I highly recommend using
Kitkat's Simporium's omsp's
to be able to place stuff on them, (as I am no expert at adding slots to furniture yet!). You get everything in the picture above except for the paintings. This is another rescued relic from 8-3 studio as they closed down their site a long time ago. I just love being able to convert all of these treasures, they are all so amazing and soo cute! I hope you all enjoy! And, as always, there's more coming :)
Both cupboards can be found under Storage/Bookshelf/Misc.
and the sweets collection all under Decorations/Clutter, or simply search on your game's search bar for "8-3 Anniversary FS" "8-3 Anniversary SS". (Paintings are not included)
*NOTE*
If you don't like using omsp's to be able to place stuff on surfaces where you are not allowed to place items, then you can always use the ole bb.moveobjects cheat, then pressing your 9-0 buttons of your keyboard to adjust the height of your objects.
{SHORTE.ST}
MEDIAFIRE
SIM FILE SHARE
MEDIAFIRE
SIM FILE SHARE